This week's theme is
Community
.
I am posting pictures that I didn't take, but I wish I had been able to. Back in September of 2004, there was a candlelight vigil held outside of little Allie Scott's hospital room. Allie was a tiny baby girl who had been diagnosed with Acute Myeloid Leukemia at five months of age. At that time, her parents began a website mainly for family so that they could stay updated on little Allie's condition. Somehow her handful of readers turned into millions more as her site began to be visited by millions all over the world. Light The Night Walk cancer teams began forming in honor of little Allie. And within an MSN group, hundreds of people from all over, joined together to talk about and pray for little Allie. Sadly, in September, a few days after these vigil pictures, Allie lost her battle to Leukemia. She was nine months old. Here are some pictures from the vigil held outside Allie's hospital window. THIS to me represents the love from a COMMUNITY.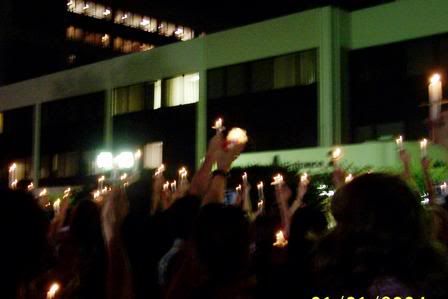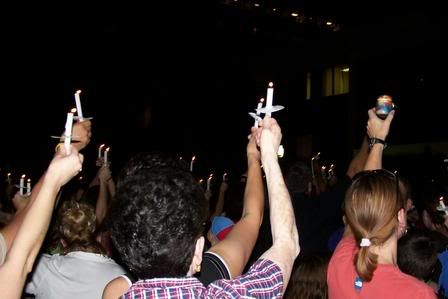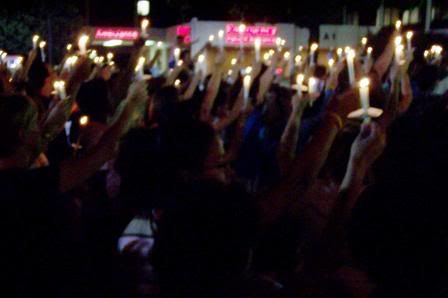 The gal in the pink Allie shirt is Jenny, Allie's mom. She came out to thank everyone.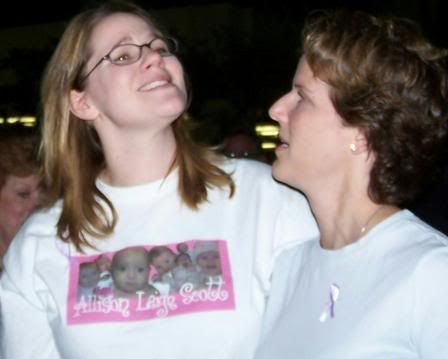 You can read her post about the vigil below. And for more information about little Allie, you can visit
The Scott Household Site
The candlelight vigil was breathtaking. To be honest, I was extremely hesitant about this at first. The attention made me squirm a bit. As I watched cars being directed by a security guard into the parking lot, I got even more jittery. Can't explain it. I didn't want to come out. Then, all the candles were lit. We stood in the pantry with Dennis and Dana and shined our flashlight down at the crowd. Dana and Dennis went to join the crowd, but not before encouraging me to join them. I was still hesitant. I called Dana on her cell phone for a crowd assessment. She told me how wonderful it was and urged me to come down. We saw the camera crew leave (didn't think I could handle an interview), so I decided that yes, I did want to be down there.
As apprehensive I was about having it, I'm ten times more appreciative that it happened. From the 12th floor, the sight of those candles was one of the most beautiful sights I've ever seen. It made me realize just how many people are thinking of my family. As we came off the elevator, Andrew and I grabbed hands, uniting us to meet the crowd. We walked out of the building and could hear a low rumble of voices singing Kumbaya. We grabbed each other tighter and headed towards the crowd. So many people there in support and love for our girl. So many people who just want to love on her too. How lucky I am to be able to love on her whenever I want right now. I'm scared of the time when our loving times will end.
When we arrived, one of the girls coordinating the event asked me if I was comfortable with a prayer. Of course. I looked near me to see my friend Sinde Wickersham close by. Perfect person to talk loudly! She said a sweet prayer for Allie and our family, and then everyone blew out their candles.
I don't know why for sure, but I felt the need to say something. I stood up, with Dana by my side because Andrew preferred to stay on the sidelines (no surprise to me there), and spoke. My ADD was kicking in and I couldn't focus on words to say. I was too busy scanning the crowd for faces. I think I garbled something out. I saw many people I had never seen before, but even more that I knew well. There was such a sense of warmth and community outpouring from everyone. We had co-workers from my school, other Plano ISD employees, co-workers of Andrew's, Frances' and my mom's work, family, close friends, neighbors. Several of Dana and Dennis' friends and family came. And we had students! My kids. One of the first faces I saw was Michelle Conway, a now 11th grader (yikes!) with big crocodile tears looking at me. As I spoke, I asked for my students to raise their hands. Then a voice yells out, "We love you, Mrs. Scott!" Oh yeah, I could pick that voice out of any crowd--AJ Sartor. There must have been more than thirty of my former students. If not more.
My years of experience with Spring Open House prepared me to handle the swarm. We told people thank you for coming, and then the crowd closed in--on me!! My students came first. Big hugs and tears. Those kids have been one of the biggest driving forces in my life for the past four years. The kids there represented each of those years. How proud I was to be standing there with them.
As we headed in, we stopped the security men to thank them for their extra effort. What a help they were, very appreciated. We hit the elevators, and Andrew said, "Sorry I wouldn't join you when you were speaking." I teased him about ditching me and he said, "well, that's how we work as a team--you know, you're the mouth!" Gee, thanks. Insinuating, of course, that he is the brain. Actually, its a fairly accurate assessment.
Thank you to all who attended the vigil, and to those that light their own candles in their home last night. I am honored that you are here with us on this journey.
THANK YOU FOR VISITING MY PHOTO HUNT 1.
reverberate58
2.
Mar
3.
Pat
4.
Miss Suzy
5.
Melli
6.
Irish Church Lady
7.
Wystful1
8.
Michele
9.
better safe than sorry
10.
ribbiticus
11.
expat traveler
12.
Carmen
13.
goofyj