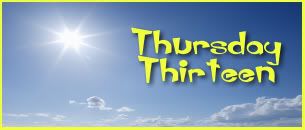 Banner created by
Mood Swing Creations
Thirteen places I would like to visit someday
1. Ever since my Art History class, I have vowed to go to Turkey to see the
Hagia Sophia.
All the pictures of it in my textbook were breathtaking.
2. I must go to Paris, yep, I must. And while there, I must go to EuroDisney. Yep!
3. I want to stay overnight in a castle in Germany. I also want to visit
Neuschwanstein
. Did you know Sleeping Beauty's Castle at Disneyland was modeled after it?
4. I have been to New York many times and it is one of my favorite places to be. But I have yet to
ice skate at the Rockefeller Center.
So, I must do that.
5. I would love to visit D.C. I have yet to visit there and I would really love to go. I think that would be a good family vacation when the kiddos are a tad older.
6. It would be amazing to go to Israel and tour many Biblical sites. Definitely something that would be incredible and unforgettable.
7. I have been to Oahu, but I would love to visit Kauai. It is supposed to be beautiful, serene, romantic.
8. My hubby has always wanted to go to Alaska and would prefer an Alaskan cruise. I think Alaska would be an amazingly beautiful place to visit. Plus, I would love to see the Northern Lights.
9. My grandpa was a Sioux Indian and one of my great great great ancestors was a chief. Because of that, I would love to go to South Dakota to see the reservations and learn more about that part of my ancestry.
10. I want to eat at Ruth's Chris Steakhouse and at The Melting Pot someday.
11. I want to go on a missions trip to an orphanage.
12. I want to go to Haiti to visit my Compassion Child.
13. I want to be able to take my kids to various parts of the county, so that they can learn about the different states up close and personal.
Get the Thursday Thirteen code here!


The purpose of the meme is to get to know everyone who participates a little bit better every Thursday. Visiting fellow Thirteeners is encouraged! If you participate, leave the link to your Thirteen in others comments. It's easy, and fun! Be sure to update your Thirteen with links that are left for you, as well! I will link to everyone who participates and leaves a link to their 13 things. Trackbacks, pings, comment links accepted!

View More Thursday Thirteen Participants