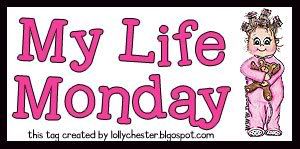 It's time for another My Life Monday, YAY!
Today's topic is our favorite childhood toy.

I had to think for a little bit on this one. I then realized that I did have a certain something that I know that I used everyday for hours. Even after it was handed down to my brother when I was 10 years old, I still went into his room and used it. It was my Fisher-Price Record Player. I absolutely loved that thing. There were a few albums I had that I listened to all of the time on that thing. I loved listening to my Sesame Street albums. I had one in English and one in Spanish. I also had the soundtrack to Annie, The Care Bears Movie and Oliver. I listened to a Cabbage Patch Kids album all of the time. I would act out the songs in my room and pretend that I was the character Raime in it. She gets taken away from the Cabbage Patch and tries to get back home. I also had an Anne Murray album of children's songs. In fact it was released on cd a few years back and I bought it for Audrey. :o) I love it when you can get your own child something that you once enjoyed so much as a kid. My mom had loads of albums and I would listen to her stuff all of the time too. I loved putting in her Flashdance album and dancing around my room like crazy to What A Feeling. I swear I would spend hours upon hours in my room listening to music, singing on the top of my lungs and dancing all over the place. It was my absolute favorite thing to do.

So, that's my story!