This afternoon, we took the miss to the park and then we went out to dinner. DH leaves for Mississippi in the morning. We have to be at the airport around 5:00 A.M....how fun for us!!!!! The mister is usually up eating at that time, so hopefully he changes his schedule around a bit tonight. DH will be in Mississippi until August 30. He also found out that he may be going back for around a month in September as well. But he thinks maybe it won't happen because a lot of people in his shop are due to be gone that month. So, we'll see. I wanted to quickly share some pictures from our afternoon. Then, I am off to give the miss a bath, feed the baby and help DH with some laundry and what not for his trip.

The mister is a huge cuddle bug. He loves to be held. Sometimes, if he starts to get fussy, all you have to do is hold him in your arms. Our little miss never wanted to be held....so it's nice to have a baby that wants you to hold him. The two "men" in the house napped quite a bit today. I snuck a pic of them this morning napping.



Since my little guy loves to be held, the New Native Baby Carrier that I got is perfect. It allows me to have the freedom to use both hands to do stuff around the house while also giving him that comfort of being with his mommy. Here is my little Roo at the park.



We went to Outback for our last family dinner for the next 4 weeks. It was so very yummy. Every time I have ever gone, I have ordered the same thing, the Rockhampton Ribeye. This time, I got the Vicotria center cut and it was sooooo tender and so stinking yummy. The miss was such a good listener at the park and at dinner, so we treated her to a sundae.
Here she is waiting for it.


And eating it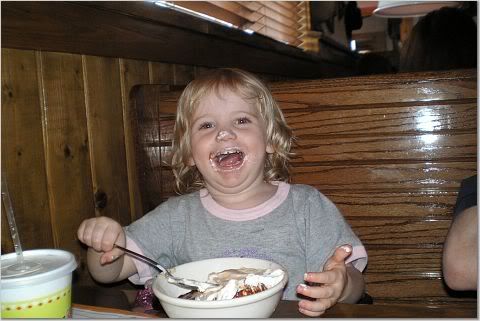 MAT 18:4 Therefore, whoever humbles himself like this child is the
greatest in the kingdom of heaven.