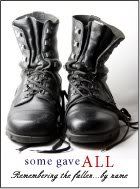 There is a wonderful site,
Some Gave All,
devoted to remembering our fallen soldiers. On their site is a list of men and women who have sacrificed their lives for our freedom. Blogging visitors of the site can email the some gave all webmaster and ask to be given the name of a soldier to commemorate. The goal is to have a blog post by Labor Day, 2006 for as many, if not all, of these men and women. I decided to take part in this worthwhile project of theirs and was given the name of a soldier who had been stationed out here in Colorado at the Fort Carson Army Base. My featured soldier is Army Sgt. Thomas F. Broomhead.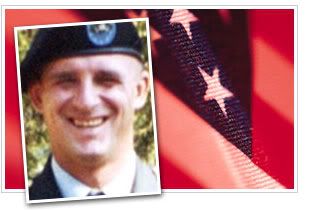 On Memorial Day, 2003, Sgt. Broomhead, 34, was on guard at a checkpoint in Fallujah, Iraq. A vehicle pulled up and assailants fired on him. He left behind a wife and three sons. Thomas F. Broomhead joined the Marines fresh out of High School in 1989. After a brief leave from the service, he re-enlisted into the army with aspirations of becoming a helicopter pilot. Broomhead served not only in Operation Iraqi Freedom, but he also served in the Gulf War.
He and his wife Kelli met in Arizona and wed in 2000. She was attracted to his smile and sense of humor and it is remembering that humor that helps her smile now that he is gone. A few months before his death, the couple were able to spend some time together dancing at the Army's Valentine's Ball.
I found a memorial site dedicated to Thomas Broomhead. I could paraphrase a lot of the memories about him and the person he was, but I have decided instead to share with you the exact words that his friends and family left on the site.
"During the years that my husband and I had known Tom, Kelli and the boys, they became very dear to us. My husband and Tom would play golf together, were on a softball team and even worked together. They often bickered over football games (Broncos and Vikings). That is dearly missed. Tom was a great husband to Kelli, father to his three sons and a friend to us. He will always be remembered in our hearts. Our thoughts and prayers go out in his memory to all the men and women serving in Iraq."
Ron, Jeannie, Madalyn and Trenton Cropsey of Colorado Springs, CO

"The promise I gave to Tom before he died was that I would take care of my best friend Kelli. I am a better American after meeting Tom and I am saddened that our friendship ended so quickly, but his spirit remains in the smile of those beautiful boys. You will always be in my heart."
Heidi Socha of Denver, Co USA

Tom you will never be forgotten you taught me so much and always made me laugh and smile. It was a pleasure to know and serve with you. I will forever wear my wristband with your name on it. -BRAVE RIFLES-"
SGT Justin Otero of FT CARSON ,Co

"Tom could always bring a smile to any situation. I only knew him for a short while while at Fort Carson, but he always inspired me to be a better soldier. He loved life like no other. The world is without a wonderful person, and he will be missed for the rest of my living days."
Shawn T. Stender of Green Bay, Wisconsin

"My name is Kim Carbetta. Tom was my brother-in-law, married to my sister, Kelli. I loved Tom very much. I thank God for every day that Kelli had Tom. He was a wonderful husband and father. Tom, Kelli and the boys spent a part of Tom's last day home in our home, before being deployed that Sunday evening. We all spent the afternoon swapping stories, laughing, watching the Rockies game and eating chicken wings. Marc and I took the last famly pictures of Tom and Kelli and the boys. We love you and miss your hysterical sense of humor, Tom. Marc misses the Ohio State-Miami rivalry, but we find ourselves rooting for Miami, anyway. Tom, you are our hero, never forgotten, just missed every day. God bless you, Tom, my hero, my brother."
Kimber Lee Carbetta of Security, Co USA

"tom was a wonderful dad. I aish he was here right now then i wouldn,t be writing right now. i miss him so much. it is hard for me to put my feelings on paper so i will let u go."
jacob of fountain colorado
As a military wife, I have learned a little bit about the sacrifices made by the soldiers and their families. Although, I haven't had to experience firsthand the mixture of fear and pride during a deployment to a war zone, I can understand how hard it is to have your hubby and father to your children away on a tdy. I can't even imagine however, having to worry day in and day out about their safety, or what it must feel like to receive word that your loved one thousands of miles away has died. My heart goes out to his wife and three boys. I am also very grateful for all of our brave men and women out there every day fighting for us and also working hard to make the lives of the Iraqis, especially women and children, better. I thank you Sgt. Broomhead.