Hello all....the weekend is over and it's back to the hustle and bustle of the week. We had a pretty nice weekend. All day Friday I told the miss about the paci-fairy. She would get a little sad, but nothing too bad. That evening, we looked all over for her pacifiers, but could only find 2. I think we had lost many along the way. So, we put one on her windowsill and I told her she could sleep that night with the other one...but that I'd take it away after she fell asleep and put it on the windowsill. Then, I ran to Toys R' Us to get the special toy from the fairy. The miss loves the Backyardigans. They do a whole pirate episode and she loves talking like a pirate. She walks around many times saying, "arrrrr...matey." So, they have this one Backyardigan toy that is dressed like a pirate and when you push on her tummy she says various phrases like, "walk the plank." She also sings a really cute song about saying arrrrrrr. So, I wrapped it up in pretty pink paper with ribbon and put it on her bedroom floor. I then went to take the pacifiers. The one on her windowsill had disappeared. My smart cookie must have jumped out of bed the second I left the room to take it and hide it. It was hidden in her bed with her, but I finally found it.

That morning when she woke up, oh my goodness, she was sooooo excited to see her present. And, she loved it....Loved it. In fact she hasn't really parted with it all weekend.

Now, I really was expecting it to be a tough weekend without her pacifier. This girl has always whined and screamed for it in the past. But all weekend long, she'd ask for it every now and then and Steve and I would just remind her that the fairy took them and left her her pirate toy. She would get sad for a second, but then start talking about something else.
And at bedtime, she has gone RIGHT TO SLEEP. Tonight she didn't even mention her pacifier.

Now, yesterday a pacifier turned up. She had found one and was very excited. She saw it on the floor, but hadn't gone over to it yet. So, I distracted her by asking her to get me something from her room. While she was in her room, I took the pacifier and cut the nipple off of it and then put it back where she found it. I know, I'm so mean. So, when she walked over to it and found it broken, she started saying, "Oh no, mommy. Some kid broke my babi(bah-bee)." She has always called her pacifiers babi's. I have no clue why. She then kept saying, "No kid, you don't do that. Don't break my babi." It was cute. We ended up throwing it away since it wasn't useable.

Anyway, I am very proud of my little girl. I thought she was going to scream bloody murder for the first few nights. But, nope...she's been fine.

On Saturday, a toy store out here was having a grand opening. I had received an email about it and decided to take Audrey. There was going to be crafts, toys out to play with, small carnival type games, magicians, face painting and an appearance by Curious George. It was all free. I wanted to take the miss because I knew she'd love seeing Curious George. She had so much fun. They had a bunch of toys out that the kids could play with and she spent the majority of the time playing with the trains. I really need to buy that girl one of those train tables. Too bad they cost a fortune. Anyway, I took some pictures to share on this here blog.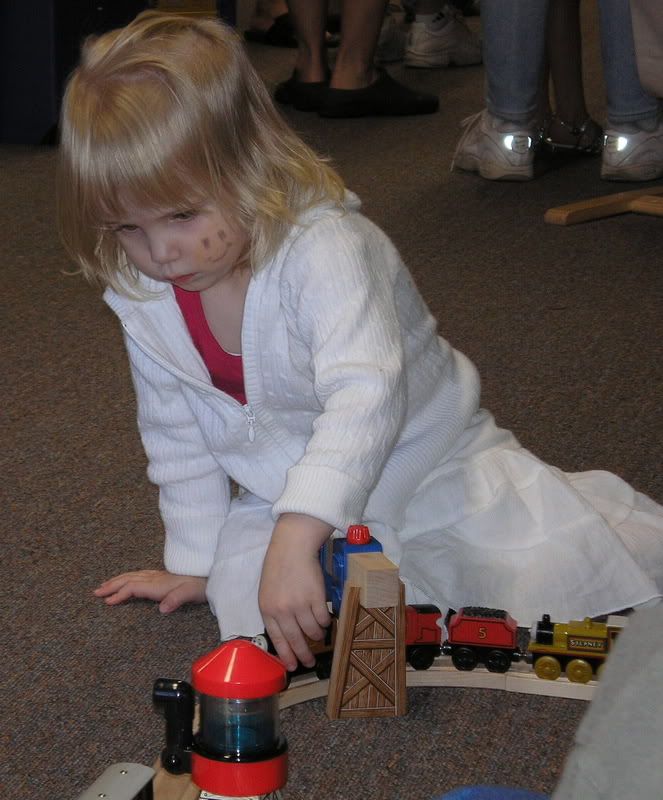 When she first saw George...who she calls, monkey George, she had the biggest smile on her face. She kept looking at him with such awe. It was very cute.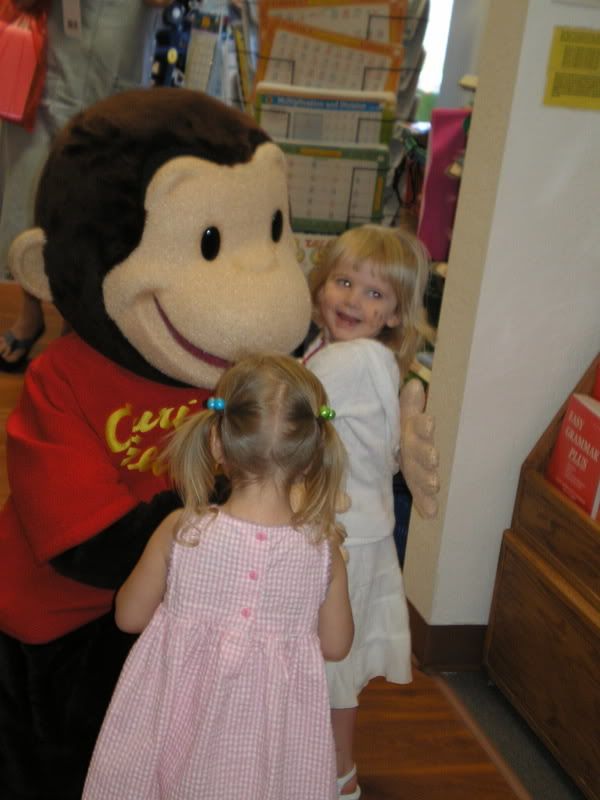 So, that was our weekend. We were going to try to go this afternoon to an amusement park out here sincefaeryland mom gave us free passes to it. But we were lazy bums today. But I enjoyed having a lazy day. It isn't called the day of rest for nothing.