Banner courtesy of
Moodswing Creations
Thirteen childhood memories involving me and my dad (in honor of Father's Day).
1. I remember the first time I ever went fishing with my dad. I think I was three years old and I was soooo excited. I sat there with my dad and actually caught something. We reeled it in and to my horror, we had caught an eel. I jumped up in the air crying and screaming. I don't think my dad ever convinced me to fish with him again.
2. My dad loved sardines and I wanted to be just like my daddy, so I ate sardines with him, right out of the can. The thought of doing that now, sickens me. But I haven't had sardines since then, so maybe I still like them???????
3. We had a pretty big deck in our backyard at our house in Connecticut. I remember on many weekend mornings, my dad and I would sit out on the deck and eat blueberries and milk for breakfast. He would put these awesome, huge Maine blueberries in a bowl and then pour milk over them. They were soooo yummy.
4. We had a very big backyard in Connecticut. When my dad would get out the tractor, he'd give me, my brother and the neighbor kids a ride. We always looked forward to these rides.
5. My dad was a huge, HUGE Red Sox fan and a Huge baseball card collector. I remember buying packs upon packs of baseball cards with my dad. We would sort through them. I am going off of pure memory here, so if I say wrong names, I apologize. But I remember I'd try to help my dad find the good Red Sox cards, especially Rookie cards. So, I was always excited to find him cards for players like Wade Boggs and Mike Greenwell.
6. I went to one Red Sox game with my daddy once as a little girl. I still have the ticket stub somewhere. I tried to find it to scan as part of the post, but it didn't turn up. We got hot dogs from the street vendors and I remember him telling me all about Fenway Park and the Green Giant. We had so much fun at the baseball game and it was fun having a daddy/daughter night.
7. I was always paranoid as a kid that someone was in our house..that they had broken in. I still have that fear even now at times. And most nights, when I would persuade my dad that I did in fact hear a noise in the basement, he'd grab his wooden pole that he used to get bubbles out of his water bed, hold my hand and together we'd check out the basement. It was always all clear. But I always felt so safe when I was by his side.
8. We had a lot of poison ivy in our front yard in Connecticut and my dad would go out there and get rid of it. He would be covered in head to toe, so not to get poison ivy on himself. My mom would fill up a spray bottle of water and give it to me. I would then run up to my daddy, while the poor man was hard at work, and I'd squirt him like crazy with the bottle. HA! We always wrestled each other and played little tricks like that on each other. I loved to beat up and tease my daddy.
9. I loved going for drives with my daddy. We would listen to his favorite songs and sing to them real loudly. I remember singing songs like, "American Pie", "For The Longest Time", "I am...I said." In fact when I hear those songs today, I picture myself in the passenger seat of our station wagon just belting out the songs with my daddy.
10. My dad insisted that he sang just like Neil Diamond. But, he didn't. SHHHHHHHH! Don't tell him that I said that. But whenever a Neil Diamond song was on the radio. Oh my, he would sing to it so loudly. And he'd sing ahead of the song. He would sing the next batch of lyrics while the previous ones were still being sung. It used to crack me up.
11. We had a swing set in my backyard that I played on a lot. I loved it when my daddy would swing on it with me. Oh, he'd make me laugh so hard.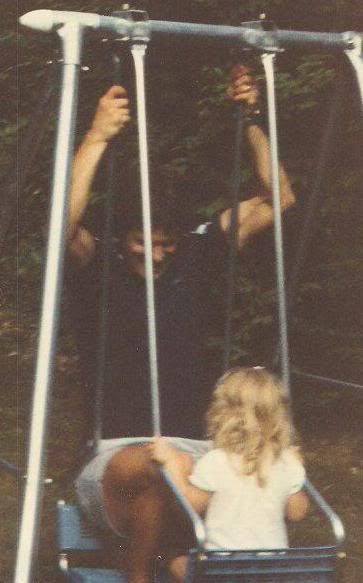 12. I was quite the performer as a kid. I took tap, ballet and jazz and also performed in numerous musicals and talent shows. My dad held onto every single playbill from every recital and school or community play. I now have them and it's cute to see ones from like first grade and what not. He was always so proud of me and my performances and would brag and brag and BRAG about me. It was cute!
13. Something that I remember doing a lot as a little kid with my dad was some game with our hands. He would put my hand in his and hold it really tight and I would try with all of my might to get my hand loose. The moment I would, he'd just grab it again. But we did this everywhere. It was like our little game that we did. I loved it.
As I got older, my relationship with my dad seemed to change a lot. I think that is typical though with some fathers and daughters. But I tell you what, we had a blast when I was a kid.........before I turned into a moody and emotional teenager. My dad went through a lot in his own childhood and I am proud of the father that he is in spite of all that he experienced. He is a good man!
Get the Thursday Thirteen code here!


The purpose of the meme is to get to know everyone who participates a little bit better every Thursday. Visiting fellow Thirteeners is encouraged! If you participate, leave the link to your Thirteen in others comments. It's easy, and fun! Be sure to update your Thirteen with links that are left for you, as well! I will link to everyone who participates and leaves a link to their 13 things. Trackbacks, pings, comment links accepted!

View More Thursday Thirteen Participants


Thanks for the comments 1.
Wendy
2.
Tracie
3.
Mar
4.
Janice
5.
Kailani
6.
Francesca
7.
Jo
8.
Carmen
9.
Wystfil1
10.
Pixie Princess Mom
11.
Mrs. Cranky Pants
12.
Lazy Daisy
13.
Yellowrose
14.
Mysteriouslady
15.
Christine
16.
Melanie
17.
Mary